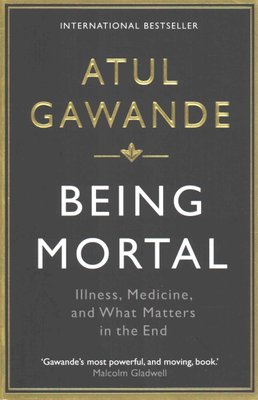 I got this book through the Mystery Book Club. 
The Mystery Book Club sends out a mystery book every month. It says it comes beautifully packaged – and it does. It was such a treat to receive.
This is a strangely appropriate book for me to receive. My husband was a little freaked out by it, and wondered if the Mystery Book people had been stalking me, but I think it was probably just one of those synchronous things that the universe throws up every now and again.
I have a soft spot for Atul Gawande. He's a surgeon, I'm a Child Psychiatrist, so we work at pretty different ends of the medical spectrum, but I still recognise his dilemmas. When I had my second load of surgery and treatment for breast cancer a few years ago, I had quite a bit of time off work. When I came back, I was worried I'd forgotten how to do it. I'd had the Checklist Manifesto recommended to me a while before that, and I picked it up and read it. I made checklists. I made checklists for every kind of appointment that I offered. They gave me such reassurance. I've since handed them out to colleagues, including Non-Medical Prescribers, and they've always been appreciated. So thank you for that, Dr Gawande.
Reading this book was an altogether different experience. It's a book about care in old age, and about care in terminal diagnoses. I'm statistically unlikely to reach old age, but I'm very likely to need to consider how to manage a terminal diagnosis. This book was painful reading at times – it's much easier to consider oneself immortal – but it felt so important. My husband is a retired GP. He reckons this book should be on the medical school curriculum. He's not a man given to over-enthusiastic endorsements of anything.
I think anybody could benefit from this, whether you're fit and healthy or not; whether you have elderly parents, or not; whether you are slowly sliding into illness or not. There is a lot to consider in here, and unless you are lucky enough to be run down by that proverbial bus and killed instantly, you are likely to need the information and intelligence in here.
So thank you, Mystery Book Club. See you next month!